Raise your hand if you've ever felt personally victimized by a self-tanner. Same. It seems like no matter what formula you slather (or spray, or wipe) on, you will inevitably be left with weird streaks, blotches, and patches that scream, "HEY! This tan is fake!" But it's not your fault (well, it might be a little bit your fault)—self-tanners are finicky beasts that require a bit of patience, some trial and error, and, most importantly, a really good formula.
Below you'll find eight truly excellent self-tanners that, as long as you follow the basic instructions and tips outlined below, won't leave you looking like an orange, streaky mess—which means you'll be free to spend your time doing something other than Googling "how to remove self-tanner." And, hey, even if you hate the results (but trust us; you won't), self-tanners fade after a week, anyway, so the commitment level here is pretty low. Get ready to have gorgeously bronzed skin.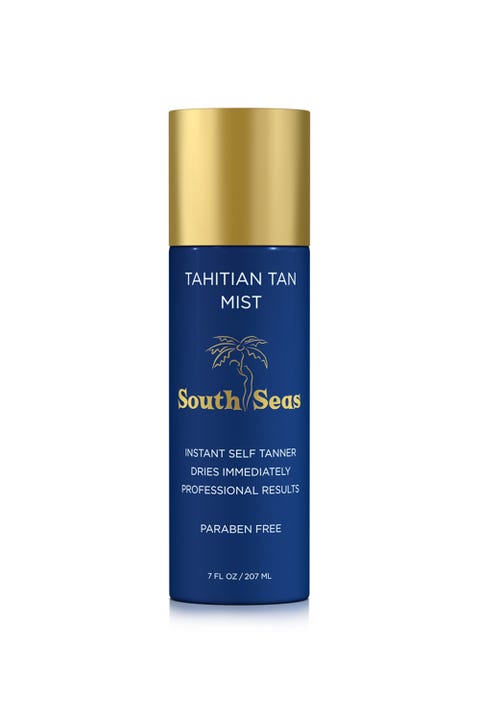 South Seas Skincare Tahitian Mist, $13
Some spray-tans-in-a-can feel wet and uneven when you apply them, but this formula is fast-absorbing, lightweight, and leaves you with a completely even finish. It also dries down on contact, so you won't need to worry about leaving part of your tan on your furniture. Just make sure to stand outside or in your shower when you spray it on—or you'll be left with gold walls and floors.
HOT TIP: The drier a self-tanner is, the more it clings to your skin—and, by nature, your dry patches—so make sure to slough away any flakes with a wash cloth the day you self-tan.